Product Review: Red Zeppelin CO2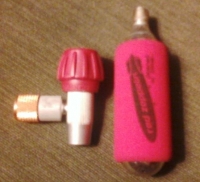 Planet Bike makes an awesome CO2 air pump. It's called the Red Zeppelin. When you buy this under $20.00 accessory, you will receive two CO2 cartridges, a sturdy connector valve, and something that looks like a mini beer koozie, an insulator to protect your hands from the eventually freezing cartridge.
What I like about this mini pump is the size, speed, ease of use, and compatibility. No more boomstick air pump attached to my frame. No longer will it take place over an extra water bottle. The Red Zeppelin fits nicely in a bike seat pouch with plenty of room to spare. Once released, the CO2 pump took 2 seconds to take a flat 700c road tire to 118 psi. Yes, the pump comes with directions. In fact, they tell you not to stick your tongue on the frozen tube valve after release.
The pump was pretty easy to use, and has a threaded connection. Most other pumps come with a trigger style valve where air can be wasted. The Red Zeppelin comes with twistable valve similar to a bathtub faucet. More turns equals more air released. This pump is compatible to fit both a Schrader (chubby,) and Presta (skinny) valve, too.
You won't be disappointed with this purchase. You may even find yourself letting out the air in your tires just to tinker with it. As always, enjoy the ride!
Mark Gibbons
Bike guru, and math teacher. Thirty-one years old. Rider of about 1,000 miles a year (outdoor, trail, and indoor).
Read More on Opinion
Volume 1, Issue 8, Posted 8:34 PM, 09.04.2013